Lactation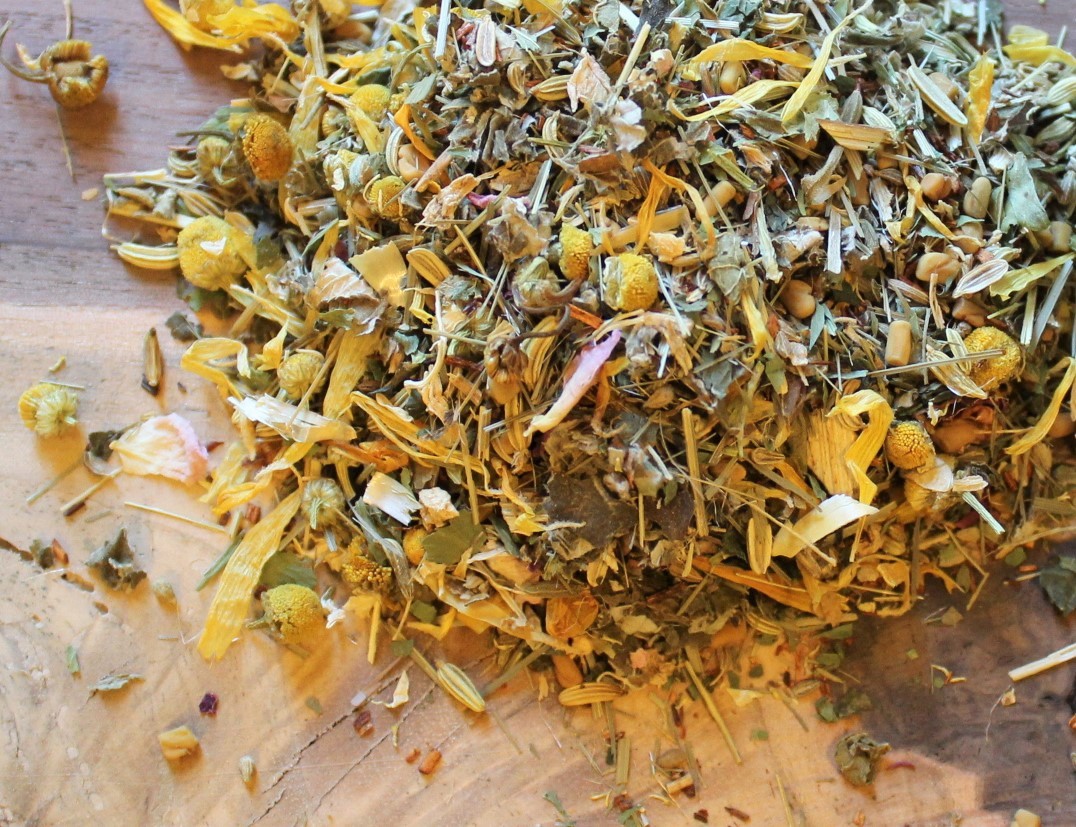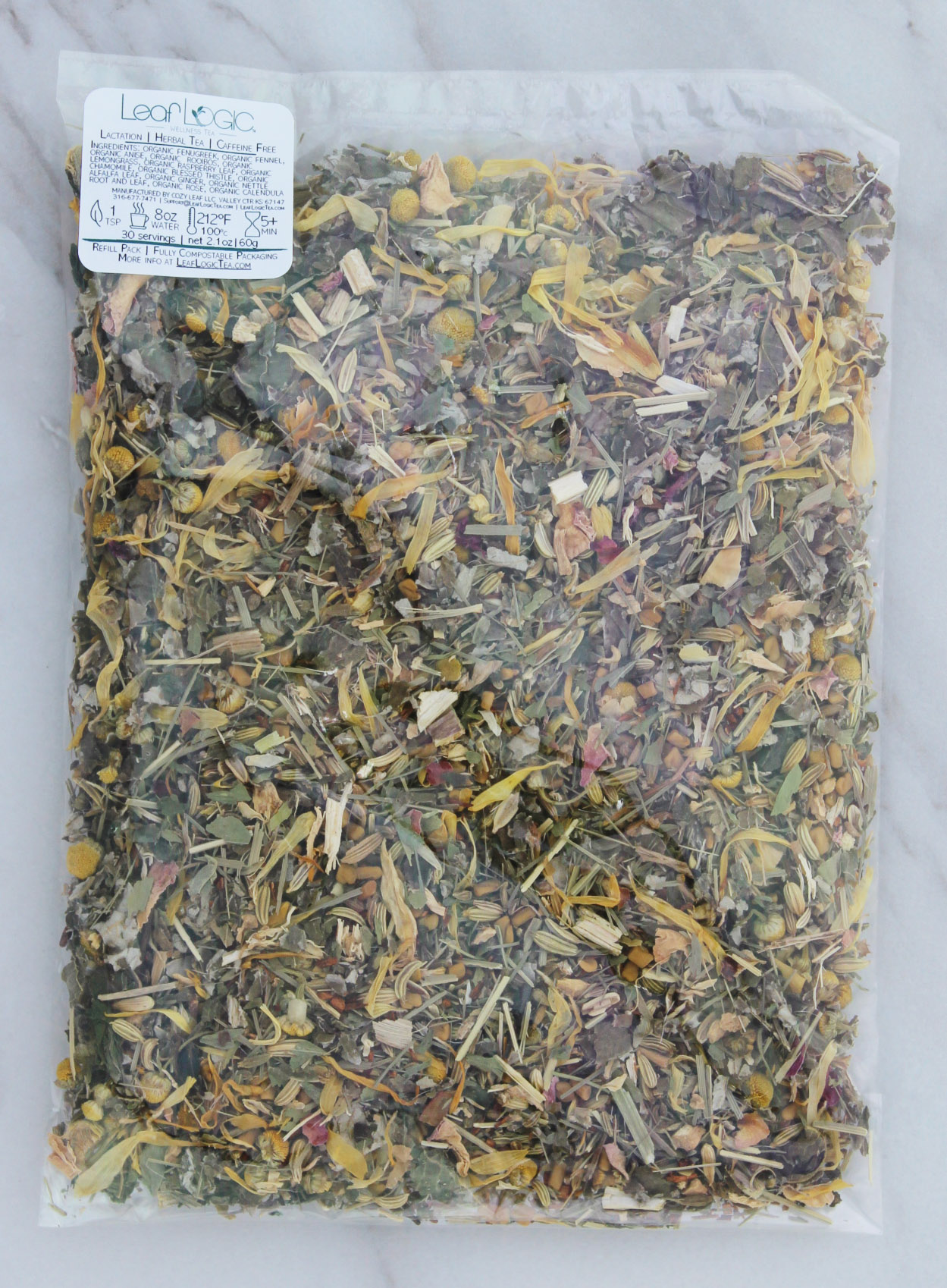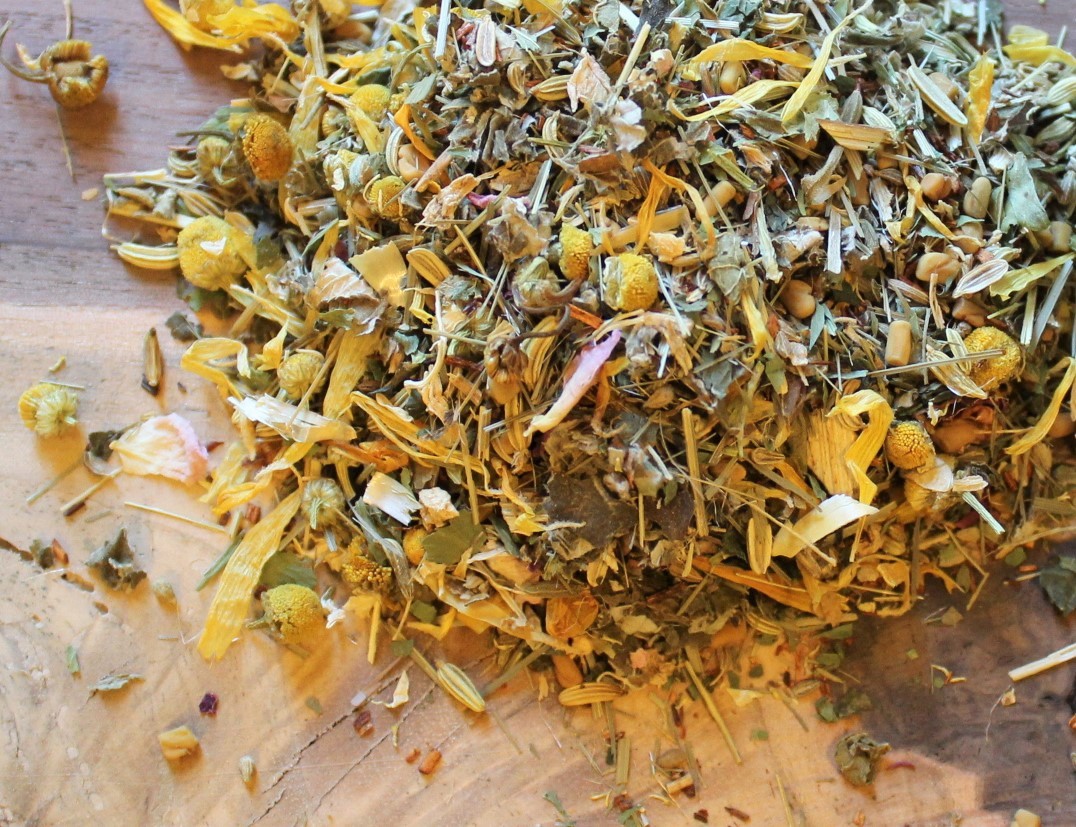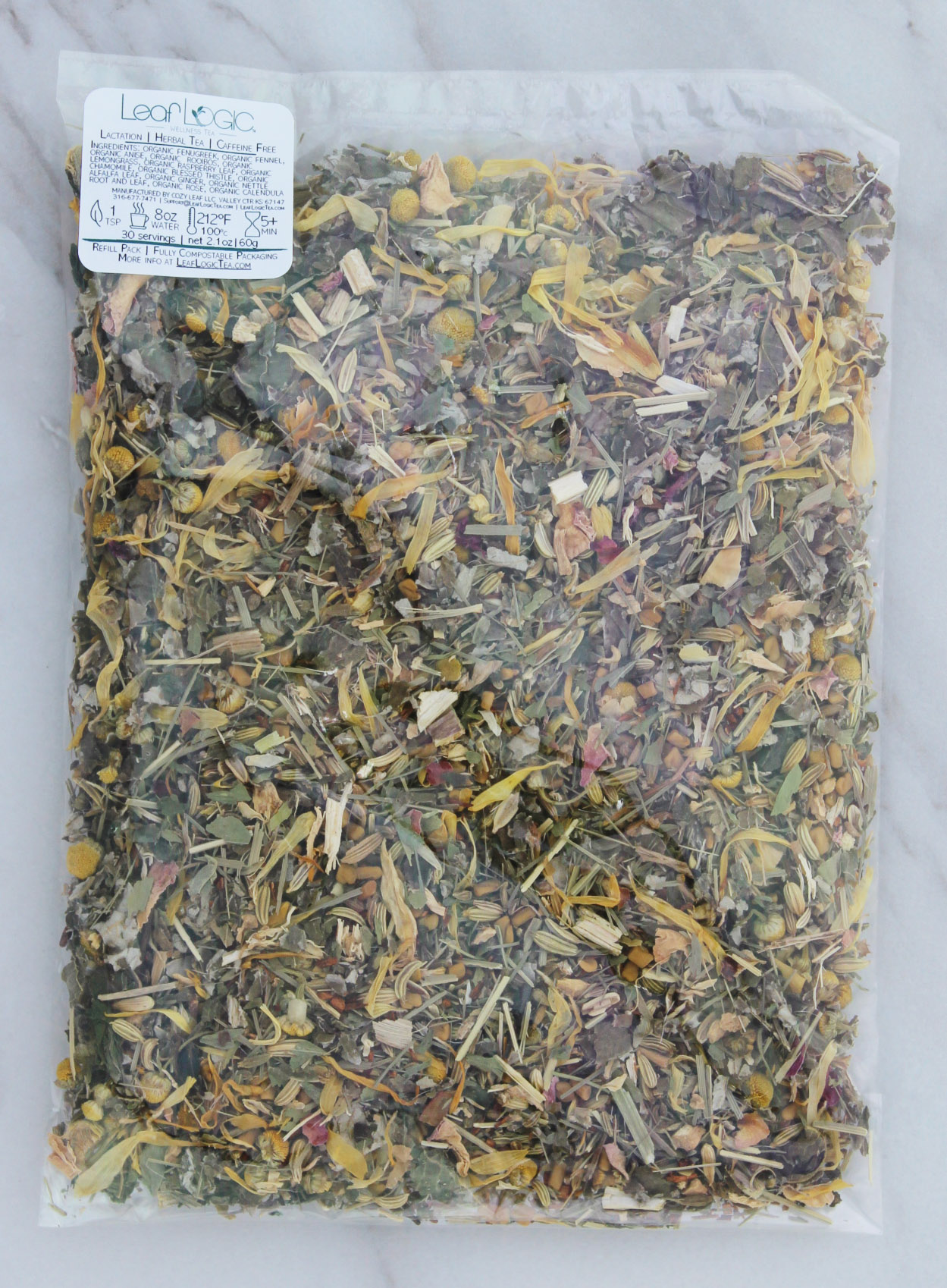 Lactation
Artisan Loose Leaf Herbal Tea (Caffeine Free) – Organic
Meet the Blend :
This loose leaf tea blend was designed to help increase milk production as well as promote higher milk quality for breast feeding mothers. These organic ingredients have been used for centuries to help nursing mothers boost their milk production an establish a healthy base for your babies lifelong nutrition. This tea tastes fantastic as well as being pleasantly aromatic. It makes a perfect drink to sip on and smell while nursing your baby.
This tea tastes fantastic as well as being pleasantly aromatic. It makes a perfect drink to sip on and smell while nursing your baby. Fenugreek, Fennel and Anise seed as well as Blessed Thistle and Alfalfa leaf are well known for enriching milk flow and quality. I add lemongrass and rose petals to give a more delicate and aromatic blend. Chamomile flowers soften the tea and promote relaxation for mother and baby while also easing upset stomachs, which is also well known trait of the ginger root. Raspberry leaf is a fabulous support for your uterus and will help encourage a balanced recovery. Red Rooibos gives a great base to this tea and helps to slightly sweeten as well as provide an incredible amount of antioxidants. Once I found the perfect balance of these ingredients, I drank this tea every day while I was a new mommy! One of my favorite things about this tea was the chamomile and how it calmed and relaxed me (I was a bit stressed out and tense!). I would brew a large batch of this tea and keep it in the refrigerator to sip throughout the day. Then on those chilly evenings, I would snuggle up with a hot cup of tea and relax knowing I was giving myself a wonderful relaxing treat as well as helping my body produce the milk and nourishment that my baby needed. The days of holding and nursing my baby are some of the most precious times I can remember in my life. Sure, at the time I was often stressed and highly emotional, but I look back on those days with a smile and know that I did the best I could for my body and for my baby! I hope you or your loved ones are able to find relaxation and help from my Lactation blend as well!
Product Description :
Brew: Steep 1 rounded teaspoon of tea per 8 oz of water (212 degrees) for 5-7 minutes.Take time to take a few deep breathes and relax. After the tea has reached the desired strength, strain out the loose leaf and savor the superior flavor found in a cup of the Leaf Logic Collection.
Herbal Infusion: Steep 1 rounded teaspoon of tea per 8 oz of water (212 degrees) for 15 minutes to 4 hours. This will draw out more of the properties from the herbs and ensure maximum benefits into your tea cup. Strain out the loose leaf and serve hot or over ice.
Ingredients: Organic Fenugreek, Organic Fennel Seed, Organic Anise Seed, Organic Rooibos, Organic Lemongrass, Organic Raspberry Leaf, Organic Chamomile, Organic Blessed Thistle, Organic Alfalfa Leaf, Organic Ginger, Organic Nettle Leaf and Root, Organic Rose Petals, Organic Calendula Petals
Taste: Warm and Peacefully calm with sweet notes of nutty fenugreek and soft, relaxing chamomile
Packaging Options: Both the Amber Refillable Jar as well as the Refillable Pouch are the same quantity of tea. We believe that one of the only solutions to the worlds waste problems is for people to reuse and refill. This is why we have created a product line that fully embodies the ability to refill and reuse the packaging. The refill bags are 100% plant based cellophane that are fully compostable refill bags with the exact amount to refill your amber glass tea jar or to purchase and refill your own container. We love the convenience and light weight aspect of these bags and are absolutely thrilled with the results of their speed to decompose in the compost. More info on our packaging at LeafLogicTea.com/Sustainable
30 Servings per container – 2.1 oz – double or triple brew for 60-90 cups of tea ~ Each jar holds 250 cc of product by volume and the same amount is what goes into the refillable pouch.